Meet One-on-One with Coaches and Mentors.
At NI Local San Francisco, you'll have a unique opportunity to get one-on-one sessions with a coach or mentor that specializes in impact careers. We've invited several life coaches, business coaches, career specialists, and impact investors to give you quality, personalized advice and motivation you need to achieve your most important goals.
Best of all, Coaches Corner is free to attendees, with purchase of an NI Local San Francisco event ticket.
Coaches Corner requests via Eventbrite ticket are now closed, as the April 7 deadline has passed. If you have indicated interest, you will be receiving a survey shortly to understand your needs. Then, we will match you with one of our talented coaches. You'll receive an email with your coach and meeting time and location prior to NI Local San Francisco. For ticket purchase after April 7, assignments will be on a first come, first served basis upon indication of interest at registration day-of.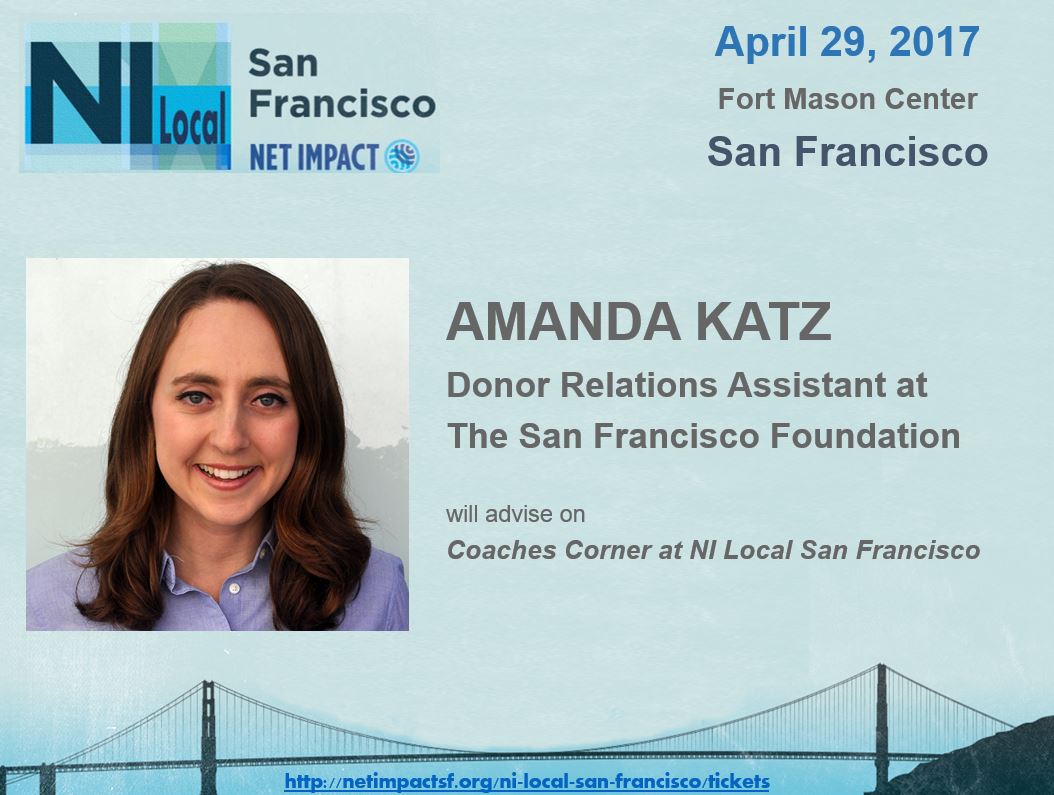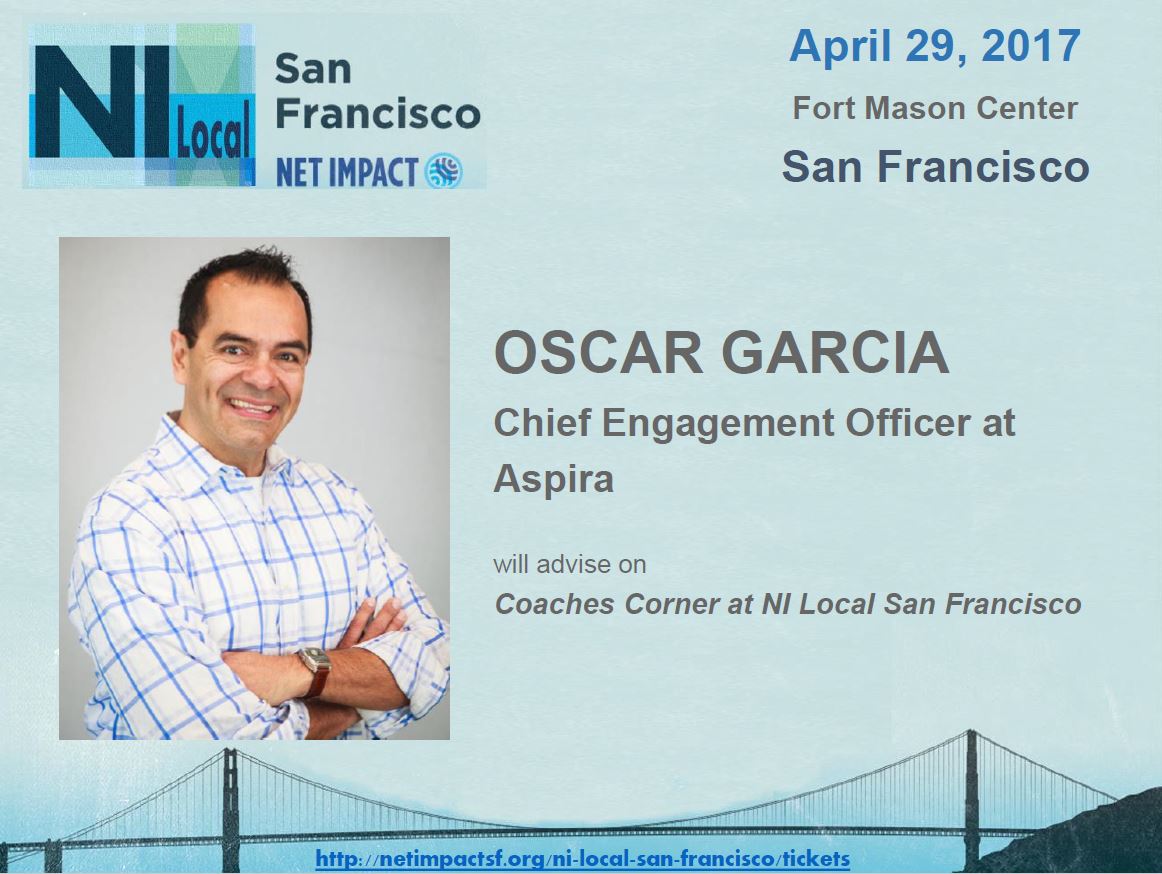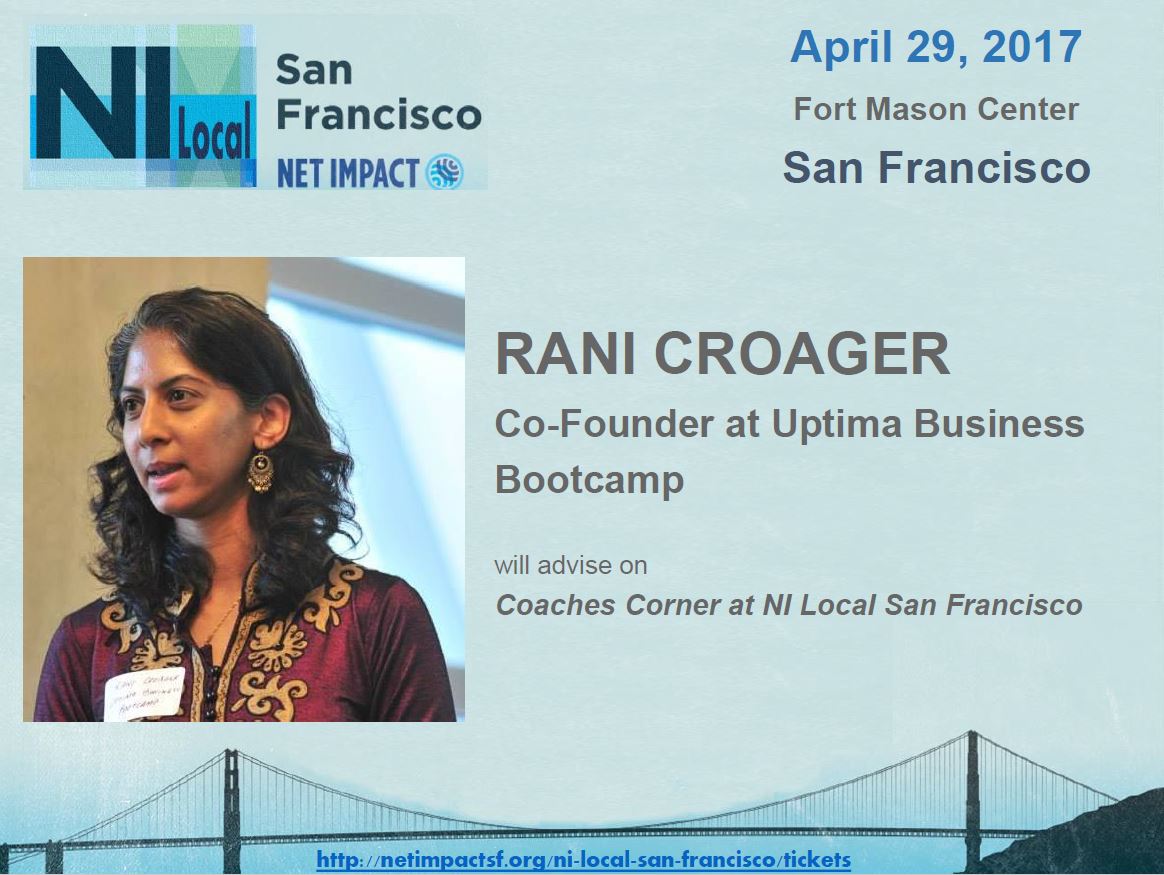 The Coaches and Mentors.
We are excited to bring you the following leaders from across the impact space!
(Featured in alphabetical order by last name):
Deborah Charlip Briant
Certified Professional Career Coach and Global Educator
As an international Career Educator and Coach for the past 15 years, and with over 10 years as a marketing professional in global business, Deborah has worked with hundreds of career seekers (including social entrepreneurs), from over 70 countries, guiding them into finding meaningful work. Deborah's experience includes managing her private coaching practice, consulting with UC Berkeley's Career Center and School of Environmental Design, and implementing career programs at the University of Bordeaux. A career catalyst, she guides people in identifying goals and defining strategies to achieve them, with the added value of facilitating connections to the employment eco-system. As Career Development Advisor with Hult International Business School, she helps students explore their passions and define their dreams, then create strategies with them to find meaningful work, not just a job.
Areas of Expertise: Career development and coaching, international business, impact and sustainability. With expertise in impact career advising I have partnered with social businesses to help candidates land internships and jobs to create positive social impact and fulfill a sense of purpose.
Learn more about Deborah at https://www.linkedin.com/in/deborahbriant
J. Scott Bryant
SVP, Cash Management Relationship Officer, Boston Private
Currently managing a portfolio of nonprofits, private partnership funds, and high-net-worth individuals for Boston Private, Scott holds a firm belief that all persons have the right to develop to their full potential. With 16 years financial services experience, along with a combined 20 years strategic planning, implementation, and managerial leadership, he has a keen eye for bringing big ideas to fruition. Along with professional pursuits, Scott has supported community-based initiatives and organizations through avid volunteerism and leadership. An example of his action-oriented work is Scott's Economic Opportunity Co-Chair position in a collective-impact organization, Full Circle Fund. In this position, he oversees project development between professional volunteers and nonprofit grant partners, mentors young leaders, supports network building between corporate and nonprofit personnel, as well as fosters nonprofit coalition building.
Areas of Expertise: Organizational strategy development & implementation, career development, business development, fundraising, leadership development
Learn more about Scott at https://www.linkedin.com/in/j-scott-bryant-4a91803/
Ella Clausen
Social Media & PR Coordinator, Numi Organic Tea
Ella is a corporate communications professional dedicated to corporate social responsibility and social impact initiatives. Her expertise is in bolstering corporate reputation by helping companies identify, and then communicate about their social purpose stories to consumers and media. She recently started a role with the leading supplier of organic and Fair Trade certified tea, Oakland-based Numi Organic Tea, where she is telling their social impact story through digital marketing and media. Previously, Ella was on the Business + Social Purpose team at the world's largest PR agency, Edelman, specializing in work ranging from diversity & inclusion, corporate sustainability, to STEM education. Ella graduated from Boston University with a degree in Public Relations and a minor in Environmental Analysis & Policy.
Areas of Expertise: Corporate social responsibility, social impact, green business, sustainable food systems, diversity & inclusion, green marketing, media relations, social media.
Learn more about Ella at: https://www.linkedin.com/in/ellaclausen
Rani Croager
Co-Founder, Uptima Business Bootcamp
Rani Langer-Croager founded Uptima Business Bootcamp to address the challenges of traditional entrepreneurship programs and business accelerators in providing accessible education and mentorship to a diverse group of entrepreneurs. Rani has drawn on more than 15 years of experience advising organizations on strategic and financial planning, capital raising, and mergers and acquisitions to develop the model for Uptima. Rani began her career as a successful investment banker for leading technology companies, and has extensive experience supporting very early stage entrepreneurs as an organizer, coach, and judge for numerous hackathons and startup challenges.
Areas of Expertise: Entrepreneurship, strategy, product development and testing, marketing, raising capital, industries and business models that seek to make a positive social or environmental impact
Learn more about Rani at uptimabootcamp.com
Sean Rico Fisher
Associate, Corporate Responsibility, SVCF
Sean Rico Fisher serves on the corporate responsibility team at Silicon Valley Community Foundation (SCVF), the largest community foundation in the world. He manages a portfolio of corporate clients, helping them design and execute charitable giving programs on local, national, and global levels.
Currently serving on the executive committee of the Association of Certified Nonprofit Professionals (ACNP), Sean Rico leads portions of the association's marketing efforts. His previous internships and volunteer work include community research and relations for arts organizations, churches, food shelters, and even Nike – where he performed ethnographic research to design concepts for sustainable products. This community engagement background largely informs the approach he takes to grantmaking and CSR.
Areas of Expertise: Personal branding, career mapping, leadership development, presentation and training skills.
Learn more about Sean at https://www.linkedin.com/in/seanricofisher
Soraya Fouladi
CEO at Jara, Leadership Coach, Management Consultant
Soraya Fouladi is an entrepreneur, electrical engineer, photographer, business management consultant, and Changemaker. She is the Founder of Jara, an organization that provides education to regions hit by natural disasters and to people who are displaced like refugees. She also cofounded motivated.world, a movement to empower people internationally to share what motivates them. Her experience includes writing curricula for and teaching K-12 robotics, directing 60 staff members and 500 campers at iD Tech Camp, working at Make School, and managing an Engineering and Innovation laboratory at Rensselaer Polytechnic Institute. Soraya is also a member of Under 30 Changemakers.
Areas of Expertise: Electrical Engineering, Education, Sales, Management, Leadership
Learn more about Soraya at: https://www.linkedin.com/in/soraya-fouladi-05848588
Oscar Garcia
Chief Engagement Officer, Aspira
Oscar Garcia has a unique background with over 10 years of technology and nonprofit management experience. Oscar is the Founder & Chief Engagement Officer of Aspira, a consulting group assisting in community relations, workforce development, LinkedIn training and business development. Oscar's career journey includes business development roles at five startups, co-founding a nonprofit, Chamber President & CEO, TV host of Silicon Valley Business and Community Relations Manager at LinkedIn. He has received various prestigious awards recognizing his leadership and community work, including the La Familia Award from the Hispanic Foundation of Silicon Valley, the NFL Hispanic Heritage Award from the San Francisco 49ers, and was nominated for Chamber Executive of the Year for the Western Association of Chamber Executives, recognizing his successful and innovative efforts to strengthen the bonds between businesses, community, nonprofits and education in Silicon Valley. As Chief Engagement Officer, his goal is to help empower and engage others so they perform at their peak, which results in the organization performing at its peak.
Areas of Expertise: Community relations, workforce development, LinkedIn training, social entrepreneurship, relationship building, business development, collaboration, strategic partnerships
Learn more about Oscar at https://www.linkedin.com/in/leadandconnect
Kathara Green
Senior Content Manager, Core Programs, Net Impact
Kathara Green is the Senior Content Manager of Core Programs at Net Impact. In this role, she leads the content curation for the annual Net Impact Conference, where she gets to be a nerd about issues across social and environmental impact and has worked with a wide range of leaders to offer their wisdom to +2000 millennial attendees. In addition to the her leadership on the conference, Kathara also works on Net Impact's year round educational programs, including the monthly webinar series Issues in Depth and other skills-based learning programs. Outside of Net Impact, Kathara serves on the Advisory Board of Oasis For Girls, a grassroots organization focused on serving girls from under-resourced communities in San Francisco.
Areas of Expertise: Events and convening in the impact ecosystem, online learning, women's issues, nonprofits.
Learn more about Kathara at: https://www.linkedin.com/in/katharagreen
Amanda Katz
Donor Relations Assistant, The San Francisco Foundation
Amanda Katz works in Development and Donor Services at The San Francisco Foundation. She actively supports high net worth donors and families in maximizing the impact of their philanthropic giving. She deals primarily with the day to day stewardship and management of donor advised funds. She is particularly passionate about the Foundation's focus on increasing racial and economic equity in the Bay Area. Prior to the Foundation, Amanda worked in nonprofit radio broadcasting, focusing on fundraising and providing locally-sourced noncommercial content to the Santa Barbara area. Additionally, she curated and co-hosted her own music and culture program for 3 years. Previously, she worked in human resources at the nonprofit Los Angeles Jewish Home, primarily in employee relations and onboarding in the senior healthcare sector. Amanda holds a Bachelor of Arts with honors in Psychology and Labor Studies from University of California, Santa Barbara. Outside of the Foundation, Amanda is involved in Full Circle Fund as a professional volunteer, where she contributes time and expertise to nurture early stage nonprofits.
Areas of Expertise: Philanthropy, Donor Relations, Nonprofit Organizing, Alternative Media/Broadcasting, Career Building
Learn more about Amanda at: https://www.linkedin.com/in/amandakatz100/
Priya Kothari
Social Impact Consultant
Priya Kothari works with the senior leadership teams of organizations with a social mission, to evaluate programs, set up measurement systems, advise on strategic planning and facilitate high-level organizational change. She writes extensively about social justice issues, using a lense of economics to understand and advocate for change. She has over 10 years of experience in the public and non-profit sectors, with senior leadership roles at the Bank of England, the central bank of the United Kingdom, and Save the Children UK.
Areas of Expertise: Impact measurement and evaluation, policy and advocacy, strategic planning, setting up a consultancy serving organizations with a social mission.
Learn more about Priya at: https://www.linkedin.com/in/priyajkothari/
Beata Lewis, JD, MSC
Executive Coach & Change Consultant, Bridging Lives
Innovators who are co-creating the "extraordinary" need better choices for upgrading how they lead and work together. Beata Lewis, owner of Bridging Lives, provides guidance for transformational leadership, collaboration and vibrant culture growth to accomplished business owners, social entrepreneurs, senior leaders and knowledge professionals. She brings 20+ years experience specialized in helping people communicate and partner more effectively, overcoming human obstacles to change with greater alignment, trust, and aliveness. Certified as a Master Somatic Coach – with experience as an educator, mediator and former attorney – Beata helps clients refresh and expand their options for taking skillful action from a more consistently resilient, agile and centered presence. Individuals and groups cultivate the Plus Factor they need to create and engage others with more embodied mastery, making the difference that matters to them.
Areas of Expertise: Leadership development and empowered presence coaching, strategic team development and engagement for vibrant culture growth, trust-centered collaboration and conversational intelligence, negotiation and conflict transformation, women's leadership.
Learn more about Beata at: BridgingLives.com
Aiko Yeh
Professional Life Coach
Aiko Yeh believes that everyone has the potential to live the life they desire. She helps young adults create a lifestyle that leads to their ultimate goal as well as a happier life. With her playful and inquisitive coaching style, the process of achieving the goal is fun and interesting. Aiko coaches and motivated clients in their achievement of personal goals and objectives for making decisions, improving relationships, setting goals and determining priorities.
Areas of Expertise: Self help, personal growth/development, goal setting, women empowerment, culture assimilation, fitness, student life
Learn more about Aiko at: https://www.linkedin.com/in/aikoyeh